Ver muestra
Unique ArgentoTM
Perfection of essential

pulido / glacé
| | | | |
| --- | --- | --- | --- |
| CARACTÉRISTIQUES | MÉTHODES D'ESSAI | UNITÉS | 4 |
| RÉACTION AU FEU (EUROCLASSES) | EUROCLASSES UNE-EN-ISO 9239-1:2002 & ISO 1716:2002 | Euroclassses | A2fl s1 |
| COEFFICIENT DE DILATATION THERMIQUE | UNE EN 14617-11:2006Méthode d'essai pour pierre agglomérée. Détermination du coefficient de dilatation thermique. | ºC-1 | 3,3 x 105 |
| RÉSISTANCE À LA FLEXION | UNE EN 14617-2:2005 Méthode d'essai pour pierre agglomérée. Détermination de résistance à la flexion. | MPa | 80 – 90 |
| RÉSISTANCE À L'IMPACT | UNE EN 14617-9:2005 Méthode d'essai pour pierre agglomérée. Détermination de résistance à l'impact. | J | >15 |
| RÉSISTANCE AU GLISSEMENT | UNE EN 14231:2004 Méthode d'essai pour pierre naturelle. Détermination de la résistance au glissement grâce au penduleàfriction. | USRV | 6 humide37 sec |
| ABSORPTION D'EAU | UNE EN 14617-1:2005 Méthode d'essai pour pierre agglomérée. Détermination de la densité apparente etabsorptiond'eau. | % | 0,06 – 0,08 |
| DENSITÉ APPARENTE | UNE EN 14617-1:2005 Méthode d'essai pour pierre agglomérée. Détermination de la densité apparente etabsorptiond'eau. | kg/m3 | 2,060 – 2080 |
| RÉSISTANCE À L'ABRASION | UNE-EN 14617-3:2005 Méthode d'essai pour pierre naturelle. Détermination de la résistance à l'abrasion. | mm | 28 – 30 |
| RÉSISTANCE CHIMIQUE | UNE EN 14617-10: 2005 Méthode d'essai pour pierre agglomérée. Détermination de la résistance chimique. | C4 | C4 Alcalins: Matériaux qui conservent au moins 80 % de la valeur de réfl exion de référence au bout de 8 heures. |
| RÉSISTANCE AUX RAYURES | UNI EN 101 Ceramic tiles. Determination de la résistance aux rayures de la surface sur l'échelle de MOHS. | MOHS | 6 -7 |
Caractéristiques techniques
Applications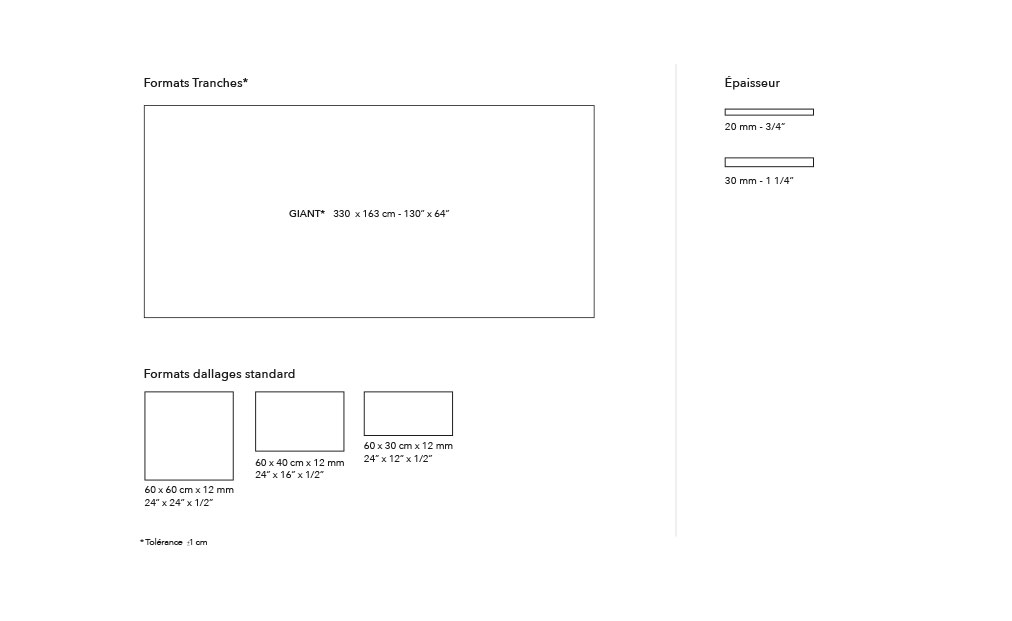 Certificats de Qualité
Certificat pour la gamme de produits en quartz

relatif à la classification du comportement face à l'incendie des produits de construction et des éléments pour la construction réalisé par le AFITILICOF Centre of Fire Testing and Research (Association for the Promotion of Research and Fire Safety Technology) conformément à Imo Resolution A.653 selon IMO FTPC Code Resolution MSC 61 (67).

Certificat de contact alimentaire.

Les produits en Quartz Technologique COMPAC sont conformes aux normes européennes CE 1935/2004 sur les objets destinés à entrer en contact avec les aliments.
Label Greenguard.

Ce certificat octroyé par l'Institut environnemental Greenguard garantit que les produits COMPAC sont conformes aux normes de qualité de l'air intérieur en matière de Composés Organiques Volatiles (COV). Les labels octroyés sont Greenguard Indoor Air Quality Certified (Certificat de qualité de l'air intérieur) et The Greenguard Children & Schools Certified (Certificat pour écoles et crèches d'enfants), ce dernier étant l'un des plus stricts de l'industrie.

Certificat NSF.

La certification NSF, organisme reconnu aux États-Unis délivrant des certificats relatifs à la santé, l'hygiène et l'environnement, considère les produits COMPAC comme matériel sûr pour un contact direct avec tous types d'aliments.

L'évaluation finale de la certification LEED est attribué par le Green Building Council des États-Unis, US Green Building Council, USGBC®, association indépendante qui associe les acteurs impliqués dans la durabilité et la construction à but non lucratif qui favorise la mise en œuvre de pratiques d'excellence en design et construction durable.