Ver muestra
Petra Botticino
BEAUTY ALWAYS RESISTS

mate Extérieur / intérieur
Property
Units of measurament

Marbre
Fire reaction
UNE-EN-ISO 9239-1:2002 & ISO 1716:2002
Euroclassses
A2fl s1
Linear thermal expansion coefficient
UNE EN 14617-11:2006
ºK-1
14,8-26,4 x 10e-6
Flexural strength
UNE EN 14617-2:2008
MPa
min 20
Scratch resistance
EN 101:1984
Mohs
4
Impact resistance
UNE EN 14617-9
J
min 4,0
Slip resistance
UNE EN 1341:2002
USRV*
Matt: 10 wet / 55 dry
Texture: 48 wet / 80 dry
Abrasion resistance
UNE-EN 14617-3:2005
mm
33-36
Water absorption
UNE EN 14617-1:2005
%
min 0,04
Apparent density
UNE EN 14617-1:2005
g/cm3
2,4 – 2,6
Chemical resistance
UNE EN 14617-10:2005
C1 (material which keeps below 60% of the reflection reference value after 8h of acid attack)
C4 (material keeps at least 80% of the reflection reference value after 8h of acid or basis attack)
Acid: C1
Basis: C4
The values provided in this technical sheet are indicative and are therefore non-binding. For further information, please contact our technical department.
Caractéristiques techniques
Applications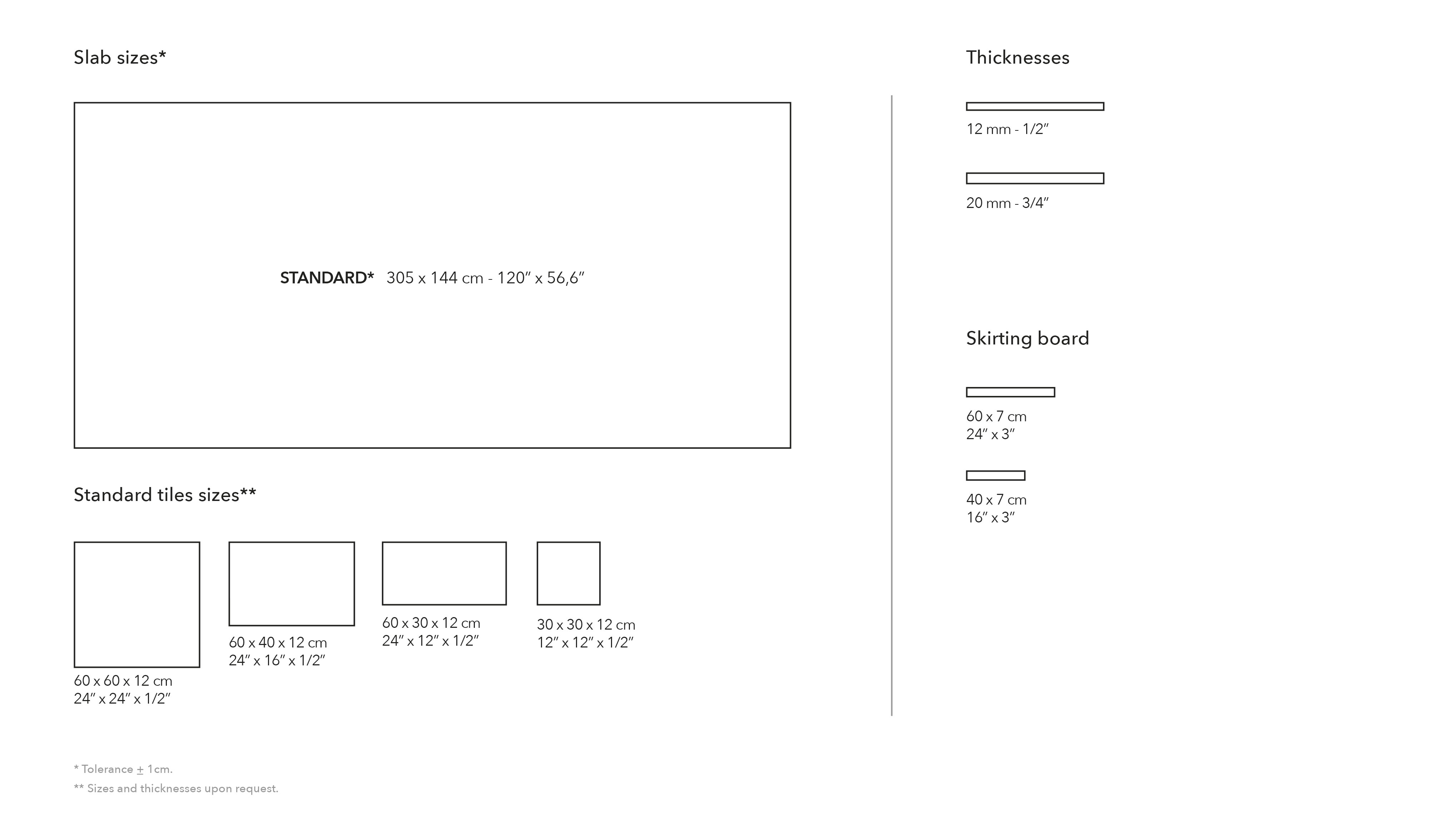 Certificats de Qualité
| | |
| --- | --- |
| | Certificat pour la gamme de produits en Terrazzo (sols) relatif à la classification du comportement en cas d'incendie des produits de construction et des éléments pour la construction réalisé par le CTF (Centre Technique du Feu) selon la norme UNE-EN 13501-1:07. |
Label Greenguard.

Ce certificat octroyé par l'Institut environnemental Greenguard garantit que les produits COMPAC sont conformes aux normes de qualité de l'air intérieur en matière de Composés Organiques Volatiles (COV). Les labels octroyés sont Greenguard Indoor Air Quality Certified (Certificat de qualité de l'air intérieur) et The Greenguard Children & Schools Certified (Certificat pour écoles et crèches d'enfants), ce dernier étant l'un des plus stricts de l'industrie.

L'évaluation finale de la certification LEED est attribué par le Green Building Council des États-Unis, US Green Building Council, USGBC®, association indépendante qui associe les acteurs impliqués dans la durabilité et la construction à but non lucratif qui favorise la mise en œuvre de pratiques d'excellence en design et construction durable.